When my mother passed away in December of 1996, the following year they had a specialty chihuahua show on her behalf. I flew out from Alberta to present the ribbon.
This is one of my mother's top show bitches who has a prescence in my herd still. Lollapaloosa had a disposition deluxe to go along with her beautiful body.
Myself with Tid Bit Kid getting his championship after 3 shows. Just a puppy.
My mother ill but still loving to show her dogs.
Honey was my Mother's top long coat show bitch. I still have a bit of Honey Bea in my lines but not very much as the pups were too tiny for reproducing.
Prairie Bandit is very strong in my lines. He was a champion show dog with a very sweet personality.
Diesel has made his prescence in my lines through a few wonderful stud dogs. His sweet temperment and lovely coloring are still passing into his prodogy from many generations down the line.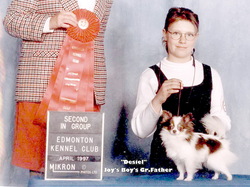 Orio is an inspiration of loveliness, and passing on so many important traits I still strive to maintain in my puppies. His temperment is so outstanding and his body type is so ideal for the type of puppies I want my puppy clients to enjoy. Orion son "Teddy" is a major injection in so many of my females and male stud dogs. Diamond Orion , Teddy was a joy to have when my mother passed away and left me with all her show dogs and breeding females. Teddy was the nicest dog I ever owned and a pride and priveledge to have him make me such amazing puppies with sometimes, having his very thick coat coming through  on puppies that are 7 generations removed. He still lets me know he is "here"……
Holly's Dolly has been in puppy heaven for several years now but she was an awesome mother, a great pet and companion for Holly when she was growing up. Holly now 24 yrs old, has Dolly's great grand daughter for a companion. Scully is a cute short coat with loads of character.
Jim Joy's Stolen Love. "Charlie" is the son of Lollapaloosa and has continued down my lines. This happy little guy was full of himself and very active. He was a champion show dog and a great pet in his later years.
My sweet Teddy, Diamond Orion on the farm after leaving Ontario in 1997.
My daughter Lisa at age 14 showing Tipper at his first show 18yrs ago.
Not everyday is "Show Day" but just a day to be a puppy, get some loving and a snooze in ….
My son Joel with Rex a son of Tipper. Joel showed Tipper a few times but in Tipper's later years, I gave him Rex as a puppy. A gorgeous son of Dee Dee. Rex continues to enjoy the lifestyle of family living.