ABOVE  PHOTO  IS SHAZAM. HIS MOM IS GINGER AND HIS DAD IS NIMBUS.HIS COAT IS NOT FULLY DEVELOPED YET DUE TO HIM BEING UNDER 2 YRS OLD.                                                                                   
ABOVE PHOTO OF AVATAR, IMPORTED FROM UKRAINE LAST YEAR AT 6 MONTHS OLD. HIS BABIES ARE SPECTACULAR! AMAZING DISPOSITIONS  TOO!                                                                                                BELOW PHOTO : CASPER is a 5lb gorgeous long coat male. His mom is Rosie a 4lb short coat black and tan female. His dad is Kodiak, a sable long coat male.
THUNDER. A GORGEOUS APPLE HEAD, SOFT PERSONALITY. 5LBS. HIS BABIES ARE VERY IMPRESSIVE!
ASTRO DOMAS IS A GORGEOUS 4 AND A HALF LB CHOCOLATE TRI MALE WITH AN AWESOME CHARACTER AND TEMPERAMENT. HE IS PASSING ON ALL HIS LOVELY FEATURES AND SOME BEAUTIFUL COLORS AND APPLE HEADS ON MOST OF HIS PUPPIES!   ASTRO'S DAD IS OKIE DOKIE AND HIS MOM    IS MOCHA. ASTRO PASSED AWAY DECEMBER 12 2019. HIS NEAR IDENTICAL SON EXPRESSO  WILL BE TAKING OVER TO PROVIDE US WITH HIS BEAUTIFUL GENES.

KODIAK IS A SHOW CHAMPION. 5LBS. AWESOME DISPOSITION AND GREAT CONFORMATION.
Need Photo
BOLT IS A STUNNING TAN SHORT COAT MALE WITH A SOFT RUFF COAT. HE HAS AN AMAZING CHARACTER! VERY VIBRANT AND LOVES EVERYBODY! HIS ADULT WEIGHT IS 5LBS EVEN. HIS DAD IS A LONG COAT BLUE BRINDLE AND HIS MOTHER IS IDENTICAL IN LOOKS TO BOLT. BOLT IS PRODUCING BLUE PUPPIES WITH APPLE HEADS AND GREAT TEMPERAMENTS!

TAXI WHO IS 4 YRS OLD AND APPROXIMATELY 5LBS EVEN. HE HAS AN AMAZING TEMPERAMENT!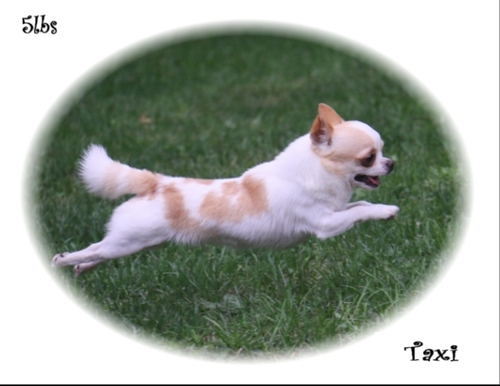 NIMBUS IS A LAVENDER BRINDLE 6LB BOY. HIS DAD IS APPLAUSE AND HIS MOM IS A RUSSIAN BRED GIRL NAMED NINA.
OKIE DOKIE, A SMALL MALE FROM MARBLE & CASPER. HE WILL REPRESENT MY FUTURE LITTERS WITH PRIDE. OKIE IS RETIRED AND IN HIS NEW HOME

BENJI. BENJI IS 7 LB DOG. HIS MOM IS DORA, HIS FATHER IS HAWK.


PAY DAY. ONE OF OUR NEWEST DADS WHO IS MAKING A BIG IMPRESSION. A SUPER FRIENDLY LITTLE GUY WITH A LOT OF GO!                                        
JET IS  6  1/2 LBS OF MUSCLE AND VERY ATHLETIC. HE IS A FULL BROTHER TO CHOCOLOTTA , MOCHA AND SHEENA. HE MAKES TCUPS IN MOST LITTERS BUT ALSO REGULAR SIZE PUPPIES AND PRODUCES MANY BLUE TRI COLORED BABIES.

TATTER. HE IS AROUND 4LBS. HIS MOM IS SPIRIT AND HIS DAD IS KIX.

ASTRO. WAS A HAPPY PLAYFUL 4 LB RANGE CHOCOLATE SHORT COAT BOY BY OKIE DOKIE AND MOCHA. ASTRO MADE AMAZING GORGEOUS APPLE HEAD BABIES WITH AMAZING TEMPERAMENTS. ASTRO'S SON EXPRESSO  WILL BE TAKING OVER FOR HIS DAD IN  2020.
TATTER, A YOUNG MALE WHO JOINED THE WAGSALOT FAMILY IN 2010. HE IS A 2 AND A HALF YEAR OLD MALE SHORT COAT FROM  SPIRIT AND KIX. TATTER IS AROUND 4  LBS. MOST OF HIS BABIES HAVE AMAZING PERSONALITIES AND GOOD TEMPERAMENTS!
STELLAR THE NEWEST  LITTLE GUY ON THE BLOCK, A DELIGHTFUL4LB  LONG COAT CREAM BOY. A NICE  DELIGHTFUL ADDITION TO THE WAGSALOT HERD. HIS FIRST LITTER BORN JULY 9 2019  ARE AWESOME!